Farm News March 2017
As the cold and wet winter weather continues, the farm still feels very much at rest. The ground is saturated, the soil still cold. The ponds are full to almost overflowing. Fruit tree buds are tight and the Chorus frogs have yet to begin their late winter songs.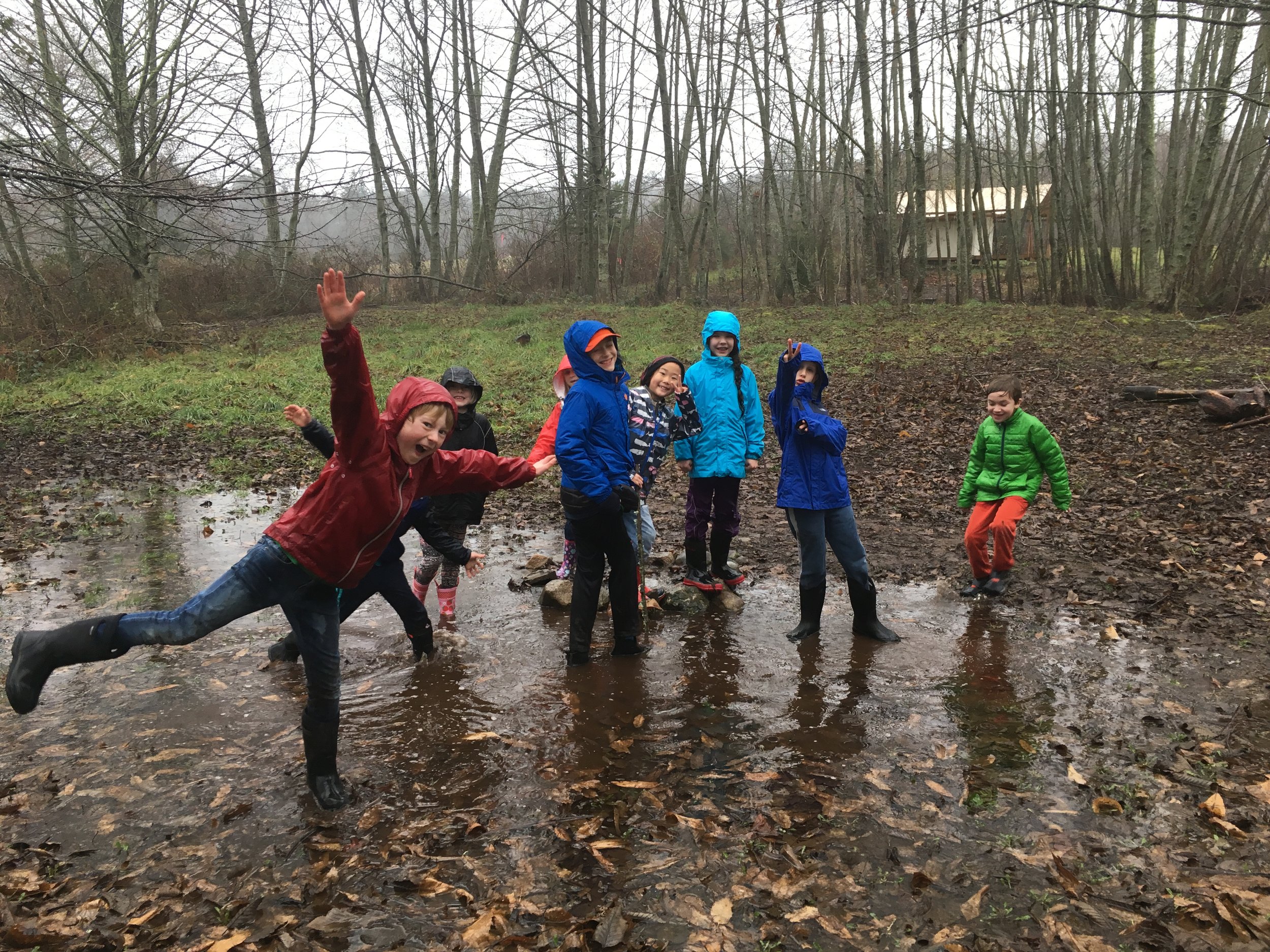 Despite winter's lingering there are small signs of spring to enjoy. The Indian Plum leafing out, garlic just barely poking its head up, robins and flickers retuning in mass, the Hooded Merganser back in the pond searching for his mate.
We've used this slower time of year to work on planning and preparations for the coming season. Seed orders, field maps, planting plans, intern interviews, brainstorming new ideas. We took a vacation to the desert to recharge. Tree pruning began in earnest in February and last week we brought in a wood chipper and turned those huge piles of branches into mulch for the orchards. We started the first seeds in the greenhouse on heated tables early in February. Onions are always first but they've since been followed up with early greenhouse successions of beets, kale, spinach, lettuce and mustard as well as our first outdoor transplants of the season; peas, broccoli and cabbage. It felt pretty unbelievable to be seeding tomatoes, peppers this week in our heavy hats and coats as the rain poured down and the wind shook the greenhouse. Some day soon the weather will change and we'll be ready with thousands of tiny little plants to dig in and seeds to scatter.
All winter long the Elementary classes have come to the farm and lent their hands. They have helped thresh dry beans and shell popcorn. They have worked hard gathering prunings and windfalls and carrying them to the burn or wood chipping piles. Today we cut blackberries out from the bases of trees in one of the apple orchards. Piles of gravel have been dispersed to fill potholes in the driveway. They are always eager to help with the animals; gathering eggs and bringing straw to the nesting boxes of the chickens as well as feeding hay to the sheep. Energy and Lucy (farm cat and dog) have received hours of rubs and kind words!
Last week the Middle school students returned to the farm. It feels like it has been a long time since we've seen them! They jumped right into a project they had begun in the fall and finished digging, laying and burying electric lines to the outdoor kitchen. This weekend an electrician friend will be out to help us hook up the power. Finally we will have lights at the student's camping area!
Yesterday, a Middle school group worked with Bob to cut and peel large cherry branches that they fashioned into a fence. They installed the fence at the top of the hill where the driveway meets the pond. It looks beautiful and will help warn folks of the pond's presence as they drive up.
This month we have welcomed back Jessica for her second year living and working on the farm as one of our interns. Jessica joined us last April from Gig Harbor, where she hopes to start her own farm in the future. She stayed on into late November to help with the turkey harvest before heading to Thailand and Vietnam to travel this winter. We are grateful to have her with us for another season! Joining her last week was Rochelle from Cambridge, Massachusetts. Rochelle developed her interest in farming during college, when she was awarded a fellowship to study urban agriculture in Philadelphia. She is excited to challenge herself to a full season of learning what it takes to grow food with and for the community. We are still in the process of hiring our third intern to balance out the farm team. The farm's interns are an integral part of our operation. They commit to 8-9 months working with us 5 days a week and experiencing all the elements of farm management. They are people who are passionate about food production and youth education, and who have sought out Pacific Crest Farm because of its unique blend of both. We couldn't do what we do without them!
Today, we all worked in the greenhouse harvesting overwintered greens. The increase in sunlight has set off their growth and we have only a short window to harvest before it warms up and they go to seed. We opened up the farm stand for the first time in months with salad, spinach and braising mix. And so it begins…